Welcome to the Eurovelo routes in Serbia!
In 2016. Danube Competence Center became National EuroVelo Coordination and Coordinator Center for the Republic of Serbia. In cooperation with the European Cyclists' Federation (ECF) the DCC is developing a network of high-quality cycling routes that connect the whole continent. The EuroVelo network is currently consisted out of 15 routes and it is planned that it will be completed by 2020. The three out of 15 international cycling routes are also passing through Serbia: EuroVelo 6, EuroVelo 11 and EuroVelo 13. If you plan to cycle along these three routes, this website will help you to fully explore their sections in Serbia. From navigational data, day to day guide, maps, photos, list of accommodation and description of local attractions, you will find everything you need to feel safe along the way and discover vast cultural and natural heritage of Serbia on your bicycle.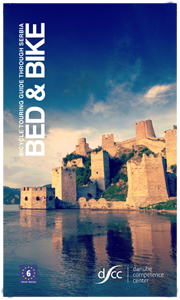 Bed & Bike – Bicycle Touring Guide Through Serbia
Eurovelo 6 through Serbia is known for beautiful and colorful nature, straight track, a large number of cultural and historical monuments and a variety of amenities along the way.
This guide will help you find your accommodation while riding along the beautiful blue Danube.
Take a look!